Property of Kuri17, travelled 1253km



In hands of anonymous user "T-Drex-DD"






Description

klíčenka kovová kotva

Goal of this item

CZ : Mým cílem je prostě cestovat s keše do keše

EN : My goal is just to travel from cache to cache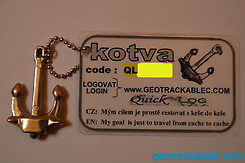 T-Drex-DD grabbed "Kotva" from GC2F53D History
Found it here and took it home to Germany. Will be placed next time elsewhere in Germany or Venice.
Rostej put "Kotva" into GCZZGP History
ponechana dalsimu geoosudu v obore Hvezda
Rostej grabbed "Kotva" from GC2B72C History
nalezena u rybnika Kala, uvidim kam me kola zanesou
Maca&peta put "Kotva" into GC2B72C History
Zakotveno v ptacim raji - u rybniku Kala.
Maca&peta grabbed "Kotva" from GC2BF8W History
Kotva vytazena z Liberecke kesky Hlava a pripravena na dalsi plavbu.
Jatros grabbed "Kotva" from GC1TEE6 History
Kuri17
OMLOUVÁM SE ZA POTÍŽE S LOGOVÁNÍM. CHYBIČKA SE VLOUDILA A V ADRESE JSEM ZAMĚNIL PÍSMENO S ZA C. SPRÁVNĚ GEOTRACKABLES.COM
Kuri17 put "Kotva" into GC1Q9A7TS11 History
Ať se dlouho nikde nezasekneš.